Wentao Duan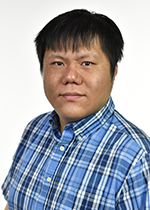 Pacific Northwest National Laboratory
PO Box 999
Richland, WA 99352
Send Email
Biography
Dr. Wentao Duan joined PNNL in 2015 as a postdoctoral research associate. In the Energy Processes and Materials Division, his work has focused on the development and improvement of aqueous and non-aqueous redox flow batteries. With his expertise on material science and electrochemistry, Dr. Duan has authored and co-authored more than 20 journal papers, as well as two book chapters.
Research Interests
Material design for energy storage and conversion.
Electrolyte optimization.
Catalyst and electrode development.
Safety and reliability of redox flow batteries.
Education and Credentials
Ph.D., Chemistry, the Pennsylvania State University, May 2015.
B.S., Chemistry, Peking University, June 2009.
PNNL Publications
2017
Duan W, J Huang, JA Kowalski, IA Shkrob, V Murugesan, ED Walter, B Pan, Z Yang, JD Milshtein, B Li, C Liao, Z Zhang, W Wang, J Liu, JS Moore, F Brushett, L Zhang, and

X Wei

. 2017.

""Wine-Dark Sea" in An Organic Flow Battery: Storing Negative Charge in 2,1,3-Benzothiadiazole Radicals Leads to Improved Cyclability."

ACS Energy Letters

2

(5):1156-1161.

doi:10.1021/acsenergylett.7b00261

Duan W, VRS Vemuri, D Hu, Z Yang, and

X Wei

. 2017.

"A Protocol for Electrochemical Evaluation and State of Charge Diagnostics of A Symmetric Organic Redox Flow Battery."

Journal of Visualized Experiments

(120):Video No. e55171.

doi:10.3791/55171

Wei X, W Pan, W Duan, AM Hollas, Z Yang, B Li, Z Nie, J Liu,

DM Reed

, W Wang, and VL Sprenkle. 2017.

"Materials and Systems for Organic Flow Batteries: Status and Challenges."

ACS Energy Letters

2

(9):2187-2204.

doi:10.1021/acsenergylett.7b00650
2016
Duan W, VRS Vemuri, JD Milshtein, S Laramie, RD Dmello, J Huang, L Zhang, D Hu, M Vijayakumar, W Wang, J Liu, RE Darling, L Thompson, KC Smith, JS Moore, F Brushett, and

X Wei

. 2016.

"A Symmetric Organic - Based Nonaqueous Redox Flow Battery and Its State of Charge Diagnostics by FTIR."

Journal of Materials Chemistry A

4

(15):5448-5456.

doi:10.1039/c6ta01177b

Huang J, B Pan, W Duan,

X Wei

, RS Assary, L Su, F Brushett, L Cheng, C Liao, MS Ferrandon, W Wang, Z Zhang, AK Burrell, LA Curtiss, IA Shkrob, JS Moore, and L Zhang. 2016.

"The lightest organic radical cation for charge storage in redox flow batteries."

Scientific Reports

6

:Article No. 32102.

doi:10.1038/srep32102

Wei X, W Duan, J Huang, L Zhang, B Li,

DM Reed

, W Xu, VL Sprenkle, and W Wang. 2016.

"A High-Current, Stable Nonaqueous Organic Redox Flow Battery."

ACS Energy Letters

1

(4):705-711.

doi:10.1021/acsenergylett.6b00255
2015
Shao Y, Y Cheng,

W Duan

, W Wang, Y Lin, Y Wang, and J Liu. 2015.

"Nanostructured Electrocatalysts for PEM Fuel Cells and Redox Flow Batteries: a Selected Review."

ACS Catalysis

5

(12):7288-7298.

doi:10.1021/acscatal.5b01737