Bin Li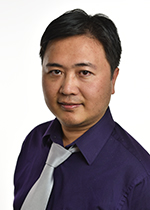 Pacific Northwest National Laboratory
PO Box 999
Richland, WA 99352
Send Email
Biography
Dr. Bin Li received his Ph.D. in Materials Science and Engineering from Tsinghua University in 2010. In 2011, he joined the Pacific Northwest National Laboratory as a postdoc. Since 2014, he has been a staff scientist at PNNL. Dr. Bin Li has much experience in energy storage/conversion, ceramic science and engineering, composite materials, optical materials, catalytic materials and growth of thin films as well as synthesis of nanostructured materials. During his Ph.D., he carried out research works on solid oxide fuel cells and photocatalytic materials. After joining PNNL in 2011, his research expanded to wider electrochemical and optical fields. He has now pioneered the development of aqueous redox flow batteries (organic and inorganic) and multivalent ion batteries in the field of energy storage and organic/inorganic composite materials in the field of thermos-optic technologies. Dr. Li holds 6 U.S. patents and authored and co-authored more than 40 journal publications and 20 conference presentations.
Research Interests
Redox flow battery.
Multivalent ion battery.
Solid oxide fuel cells.
Catalysts: electrocatalytic and photocatalytic materials.
Solid fast ion conductors (oxide ion and Li ion).
Design and preparation of nanostructured materials.
Growth of textured or epitaxial thin films.
Ceramic materials sintering.
Affiliations and Professional Service
Member of American Chemical Society.
Member of the Electrochemical Society.
Member of Materials Research Society.
Conference organizer: Lead organizer for 25th International Materials Research Congress (2016) on stationary energy storage.
Awards and Recognitions
Exceptional Contribution Award, PNNL, 2016.
Publication of The Year Award (lead), PNNL, 2015.
Of-The-Year (OTY) Project Team Award, PNNL, 2013.
Pathway to Excellence Patent Award, PNNL, 2017.
PNNL Patents
U.S. Patent No. 9,793,566, October 17, 2017, "AQUEOUS ELECTROLYTES FOR REDOX FLOW BATTERY SYSTEMS".
U.S. Patent No. 9,748,595, August 29, 2017, "High-Energy-Density, Aqueous, Metal-Polyiodide Redox Flow Batteries ".
U.S. Patent No. 9,236,620, January 12, 2016, "Composite Separators and Redox Flow Batteries Based on Porous Separators".
PNNL Publications
2017
Li B

, and J Liu. 2017.

"Progress and directions in low-cost redox-flow batteries for large-scale energy storage."

National Science Review

4

(1):91-105.

doi:10.1093/nsr/nww098

Duan W, J Huang, JA Kowalski, IA Shkrob, V Murugesan, ED Walter, B Pan, Z Yang, JD Milshtein, B Li, C Liao, Z Zhang, W Wang, J Liu, JS Moore, F Brushett, L Zhang, and

X Wei

. 2017.

""Wine-Dark Sea" in An Organic Flow Battery: Storing Negative Charge in 2,1,3-Benzothiadiazole Radicals Leads to Improved Cyclability."

ACS Energy Letters

2

(5):1156-1161.

doi:10.1021/acsenergylett.7b00261

Pan H, B Li, D Mei, Z Nie, Y Shao,

G Li

, XS Li, KS Han, KT Muller, VL Sprenkle, and J Liu. 2017.

"Controlling Solid-Liquid Conversion Reactions for Highly Reversible Aqueous Zinc-iodine Battery."

ACS Energy Letters

2

:2674-2680.

doi:10.1021/acsenergylett.7b00851

Wei X, W Pan, W Duan, AM Hollas, Z Yang, B Li, Z Nie, J Liu,

DM Reed

, W Wang, and VL Sprenkle. 2017.

"Materials and Systems for Organic Flow Batteries: Status and Challenges."

ACS Energy Letters

2

(9):2187-2204.

doi:10.1021/acsenergylett.7b00650
2016
Reed DM

, EC Thomsen, B Li, W Wang, Z Nie, BJ Koeppel, and VL Sprenkle. 2016.

"Performance of a Low Cost Interdigitated Flow Design on a 1 kW Class All Vanadium Mixed Acid Redox Flow Battery."

Journal of Power Sources

306

:24-31.

doi:10.1016/j.jpowsour.2015.11.089

Reed DM

, EC Thomsen, B Li, W Wang, Z Nie, BJ Koeppel, JP Kizewski, and VL Sprenkle. 2016.

"Stack Developments in a kW class all vanadium mixed acid redox flow battery at the Pacific Northwest National Laboratory."

Journal of the Electrochemical Society

163

(1):A5211-A5219.

doi:10.1149/2.0281601jes

Cheng Y, L Luo, L Zhong, J Chen, B Li, W Wang, SX Mao, CM Wang, VL Sprenkle,

G Li

, and J Liu. 2016.

"Highly Reversible Zinc-ion Intercalation with Chevrel Phase Mo6S8 Nanocubes and Applications for Advanced Zinc-ion Batteries."

ACS Applied Materials & Interfaces

8

(22):13673-13677.

doi:10.1021/acsami.6b03197

Estevez L,

DM Reed

, Z Nie, AM Schwarz, MI Nandasiri, JP Kizewski, W Wang, EC Thomsen, J Liu, J Zhang, VL Sprenkle, and B Li. 2016.

" Tunable oxygen functional groups as electro-catalysts on graphite felt surfaces for all vanadium flow batteries."

ChemSusChem

9

(12):1455-1461.

doi:10.1002/cssc.201600198

Li B, J Liu, Z Nie, W Wang,

DM Reed

, J Liu, BP McGrail, and VL Sprenkle. 2016.

"Metal-organic frameworks as highly active electrocatalysts for high-energy density, aqueous zinc-polyiodide redox flow batteries."

Nano Letters

16

(7):4335-4340.

doi:10.1021/acs.nanolett.6b01426

Vijayakumar M, Q Luo, RB Lloyd, Z Nie,

X Wei

, B Li, VL Sprenkle, JD Londono, M Unlu, and W Wang. 2016.

"Tuning the perfluorosulfonic acid membrane morphology for vanadium redox flow batteries."

ACS Applied Materials & Interfaces

8

(50):34327-34334.

doi:10.1021/acsami.6b10744

Wei X, W Duan, J Huang, L Zhang, B Li,

DM Reed

, W Xu, VL Sprenkle, and W Wang. 2016.

"A High-Current, Stable Nonaqueous Organic Redox Flow Battery."

ACS Energy Letters

1

(4):705-711.

doi:10.1021/acsenergylett.6b00255
2015
Reed DM

, EC Thomsen, W Wang, Z Nie, B Li, X Wei, BJ Koeppel, and VL Sprenkle. 2015.

"Performance of NafionŽ N115, NafionŽ NR-212, and NafionŽ NR-211 in a 1 kW Class All Vanadium Mixed Acid Redox Flow Battery."

Journal of Power Sources

285

:425-430.

doi:10.1016/j.jpowsour.2015.03.099

Wei X

, B Li, and W Wang. 2015.

"Porous Polymeric Composite Separators for Redox Flow Batteries."

Polymer Reviews

55

(2):247-272.

doi:10.1080/15583724.2015.1011276

Wei X

, G Xia, BW Kirby, EC Thomsen, B Li, Z Nie, GL Graff, J Liu, VL Sprenkle, and W Wang. 2015.

"An Aqueous Redox Flow Battery Based on Neutral Alkali Metal Ferri/ferrocyanide and Polysulfide Electrolytes."

Journal of the Electrochemical Society

163

(1):A5150-A5153.

doi:10.1149/2.0221601jes

Crawford AJ, VV Viswanathan, DE Stephenson, W Wang, EC Thomsen,

DM Reed

, B Li, PJ Balducci, MCW Kintner-Meyer, and VL Sprenkle. 2015.

"Comparative analysis for various redox flow batteries chemistries using a cost performance model."

Journal of Power Sources

293

:388-399.

doi:10.1016/j.jpowsour.2015.05.066

Li B, Z Nie, M Vijayakumar,

G Li

, J Liu, VL Sprenkle, and W Wang. 2015.

"Ambipolar zinc-polyiodide electrolyte for a high-energy density aqueous redox flow battery."

Nature Communications

6

:Article No. 6303.

doi:10.1038/ncomms7303

Vijayakumar M, N Govind, B Li,

X Wei

, Z Nie, S Thevuthasan, VL Sprenkle, and W Wang. 2015.

"Aqua-vanadyl ion interaction with NafionŽ membranes."

Frontiers in Energy Research

3

:Article No. 10.

doi:10.3389/fenrg.2015.00010

Wei X, W Xu, J Huang, L Zhang, ED Walter, CW Lawrence, M Vijayakumar,

WA Henderson

, TL Liu, L Cosimbescu, B Li, VL Sprenkle, and W Wang. 2015.

"Radical Compatibility with Nonaqueous Electrolytes and Its Impact on an All-Organic Redox Flow Battery."

Angewandte Chemie International Edition

127

(30):8808-8811.

doi:10.1002/ange.201501443
2014
Li B, M Gu, Z Nie,

X Wei

, CM Wang, VL Sprenkle, and W Wang. 2014.

"Nanorod Niobium Oxide as Powerful Catalysts for an All Vanadium Redox Flow Battery ."

Nano Letters

14

(1):158-165.

doi:10.1021/nl403674a

Li B, Q Luo,

X Wei

, Z Nie, EC Thomsen, B Chen, VL Sprenkle, and W Wang. 2014.

"Capacity Decay Mechanism of Microporous Separator-Based All-Vanadium Redox Flow Batteries and its Recovery."

ChemSusChem

7

(2):577-584.

doi:10.1002/cssc.201300706

Viswanathan VV,

AJ Crawford

, DE Stephenson, S Kim, W Wang, B Li, GW Coffey, EC Thomsen, GL Graff, PJ Balducci, MCW Kintner-Meyer, and VL Sprenkle. 2014.

"Cost and Performance Model for Redox Flow Batteries."

Journal of Power Sources

247

:1040-1051.

doi:10.1016/j.jpowsour.2012.12.023
2013
Li B

, J Zhang, TC Kaspar, V Shutthanandan, RC Ewing, and J Lian. 2013.

"Multilayered YSZ/GZO films with greatly enhanced ionic conduction for low temperature solid oxide fuel cells."

Physical Chemistry Chemical Physics. PCCP

15

(4):1296-1301.

doi:10.1039/C2CP42964K

Wei X

, Q Luo, B Li, Z Nie, E Miller, J Chambers, VL Sprenkle, and W Wang. 2013.

"Performance Evaluation of Microporous Separator in Fe/V Redox Flow Battery."

ECS Transactions

45

(26):17-24.

doi:10.1149/04526.0017ecst

Wei X

, Z Nie, Q Luo, B Li, B Chen, KL Simmons, VL Sprenkle, and W Wang. 2013.

"Nanoporous Polytetrafluoroethylene/Silica Composite Separator as a High-Performance All-Vanadium Redox Flow Battery Membrane."

Advanced Energy Materials

3

(9):1215-1220.

doi:10.1002/aenm.201201112

Wei X

, Z Nie, Q Luo, B Li, VL Sprenkle, and W Wang. 2013.

"Polyvinyl Chloride/Silica Nanoporous Composite Separator for All-Vanadium Redox Flow Battery Applications."

Journal of the Electrochemical Society

160

(8):A1215 - A1218.
Li B, L Li, W Wang, Z Nie, B Chen,

X Wei

, Q Luo, Z Yang, and VL Sprenkle. 2013.

"Fe/V Redox Flow Battery Electrolyte Investigation and Optimization."

Journal of Power Sources

229

:1-5.

doi:10.1016/j.jpowsour.2012.11.119

Li B, M Gu, Z Nie, Y Shao, Q Luo,

X Wei

, X Li, J Xiao, CM Wang, VL Sprenkle, and W Wang. 2013.

"Bismuth Nanoparticle Decorating Graphite Felt as a High-Performance Electrode for an All-Vanadium Redox Flow Battery."

Nano Letters

13

(3):1330-1335.

doi:10.1021/nl400223v

Luo Q, L Li, W Wang, Z Nie,

X Wei

, B Li, B Chen, Z Yang, and VL Sprenkle. 2013.

"Capacity Decay and Remediation of Nafion-based All-Vanadium Redox Flow Batteries."

ChemSusChem

6

(2):268-274.

doi:10.1002/cssc.201200730

Wang W, Q Luo, B Li,

X Wei

, L Li, and Z Yang. 2013.

"Recent Progress in Redox Flow Battery Research and Development."

Advanced Functional Materials

23

(8):970-986.

doi:10.1002/adfm.201200694
2012
Wei X

, L Li, Q Luo, Z Nie, W Wang, B Li, G Xia, E Miller, J Chambers, and Z Yang. 2012.

"Microporous Separators for Fe/V Redox Flow Batteries."

Journal of Power Sources

218

(1):39-45.

doi:10.1016/j.jpowsour.2012.06.073

Luo Q, L Li, Z Nie, W Wang,

X Wei

, B Li, B Chen, and Z Yang. 2012.

"In-situ Investigation of Vanadium Ion Transport in Redox Flow Battery."

Journal of Power Sources

218

(1):15-20.

doi:10.1016/j.jpowsour.2012.06.066