Dongping Lu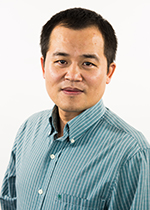 Pacific Northwest National Laboratory
PO Box 999
Richland, WA 99352
Send Email
Biography
Dr. Lu is currently a Research Scientist in the Electrochemical Materials and Systems Group in the Energy Processes and Materials Division at PNNL. He has expertise and 14 years' experience in the development of materials and electrolytes for different kinds of energy storage devices as well as in-depth mechanism analysis through various in-situ/ex-situ techniques for Li-ion (Li) batteries, rechargeable Mg batteries, and Ni-MH high power batteries. Since joining PNNL in 2013, he has being focused on the development of high energy lithium-sulfur and lithium ion sulfur batteries including materials and electrolytes development, fundamental understanding, and pouch cell design and evaluation. Dr. Lu has more than 30 papers published in peer-reviewed professional journals and holds 6 granted and pending U.S. Patents.
Research Interests
Development of electrode materials and electrolytes for high energy storage devices such as Li-sulfur batteries, Li-ion batteries, Mg batteries and Ni-MH batteries.
Education and Credentials
Ph.D., Physical Chemistry, Xiamen University, China, January, 2011
Affiliations and Professional Service
The Electrochemical Society;
Materials Research Society
Awards and Recognitions
PNNL 2016 Pathway to Excellence Patent Award, April 2017.
PNNL Energy and Environment Directorate Outstanding Performance Award, 2014, 2015.
PNNL Patents
U.S. Patent No. 9,722,277, August 1, 2017, "ELECTROLYTE FOR BATTERIES WITH REGENERATIVE SOLID ELECTROLYTE INTERFACE".
U.S. Patent No. 9,577,250, February 21, 2017, "Thick Electrodes Including Nanoparticles Having Electroactive Materials and Methods of Making Same".
U.S. Patent No. 9,343,736, May 17, 2016, "LITHIUM COMPENSATION FOR FULL CELL OPERATION ".
PNNL Publications
2018
Duan W., B. Li, D. Lu, X. Wei, Z. Nie, V. Murugesan, and J.P. Kizewski, et al. 2018. "Towards an All-Vanadium Redox Flow Battery with Higher Theoretical Volumetric Capacities by Utilizing the VO2+/V3+ Couple." Journal of Energy Chemistry 27, no. 5:1381-1385. PNNL-SA-127931. doi:10.1016/j.jechem.2018.05.020
Liu B., W. Xu, J. Tao, P. Yan, J. Zheng, M.H. Engelhard, and D. Lu, et al. 2018. "Enhanced Cyclability of Lithium-Oxygen Batteries with Electrodes Protected by Surface Films Induced via In-Situ Electrochemical Process." Advanced Energy Materials 8, no. 11:1702340. PNNL-SA-128613. doi:10.1002/aenm.201702340
Lu D., Q. Li, J. Liu, J. Zheng, Y. Wang, S.A. Ferrara, and J. Xiao, et al. 2018. "Enabling High-Energy-Density Cathode for Lithium-Sulfur Batteries." ACS Applied Materials & Interfaces 10, no. 27:23094-23102. PNNL-SA-123328. doi:10.1021/acsami.8b05166
Wang Y., D. Lu, M.E. Bowden, P.Z. El-Khoury, K. Han, Z. Deng, and J. Xiao, et al. 2018. "Mechanism of Formation of Li7P3S11 Solid Electrolytes through Liquid Phase Synthesis." Chemistry of Materials 30, no. 3:990-997. PNNL-SA-130713. doi:10.1021/acs.chemmater.7b04842
2017
Li Q., D. Lu, J. Zheng, S. Jiao, L. Luo, C. Wang, and K. Xu, et al. 2017. "Li+-Desolvation Dictating Lithium-Ion Battery's Low-Temperature Performances." ACS Applied Materials & Interfaces 9, no. 49:42761-42768. PNNL-SA-129021. doi:10.1021/acsami.7b13887
Lu D., J. Tao, P. Yan, W.A. Henderson, Q. Li, Y. Shao, and M.L. Helm, et al. 2017. "Formation of Reversible Solid Electrolyte Interface on Graphite Surface from Concentrated Electrolytes." Nano Letters 17, no. 3:1602-1609. PNNL-SA-113201. doi:10.1021/acs.nanolett.6b04766
2015
Cao R., W. Xu, D. Lu, J. Xiao, and J. Zhang. 2015. "Anodes for Rechargeable Lithium-Sulfur Batteries." Advanced Energy Materials 5, no. 16:Article No. 1402273. PNNL-SA-107153. doi:10.1002/aenm.201402273
Lu D., J. Zheng, Q. Li, X. Xie, S.A. Ferrara, Z. Nie, and B.L. Mehdi, et al. 2015. "High Energy Density Lithium-Sulfur Batteries: Challenges of Thick Sulfur Cathodes." Advanced Energy Materials 5, no. 16:Article No. 1402290. PNNL-SA-107462. doi:10.1002/aenm.201402290
Lu D., P. Yan, Y. Shao, Q. Li, S.A. Ferrara, H. Pan, and G.L. Graff, et al. 2015. "High Performance Li-ion Sulfur Batteries Enabled by Intercalation Chemistry." Chemical Communications 51, no. 70:13454-13457. PNNL-SA-108571. doi:10.1039/C5CC05171A
Lu D., Y. Shao, T.J. Lozano, W.D. Bennett, G.L. Graff, B. Polzin, and J. Zhang, et al. 2015. "Failure Mechanism of Fast-Charged Lithium Metal Batteries in Liquid Electrolyte." Advanced Energy Materials 5, no. 3:Article No. 1400993. PNNL-SA-101983. doi:10.1002/AENM.201400993
Wang Q., J. Zheng, E.D. Walter, H. Pan, D. Lu, P. Zuo, and H. Chen, et al. 2015. "Direct Observation of Sulfur Radicals as Reaction Media in lithium Sulfur Batteries." Journal of the Electrochemical Society 162, no. 3:A474-A478. PNNL-SA-104559. doi:10.1149/2.0851503jes
Xiao J., J.Z. Hu, H. Chen, M. Vijayakumar, J. Zheng, H. Pan, and E.D. Walter, et al. 2015. "Following the Transient Reactions in Lithium-Sulfur Batteries Using In an In Situ Nuclear Magnetic Resonance Technique." Nano Letters 15, no. 5:3309-3316. PNNL-SA-101779. doi:10.1021/acs.nanolett.5b00521
Yan P., A. Nie, J. Zheng, Y. Zhou, D. Lu, X. Zhang, and R. Xu, et al. 2015. "Evolution Of Lattice Structure And Chemical Composition Of The Surface Reconstruction Layer In Li1.2Ni0.2Mn0.6O2 Cathode Material For Lithium Ion Batteries." Nano Letters 15, no. 1:514-522. PNNL-SA-106363. doi:10.1021/nl5038598
2014
Huang C., J. Xiao, Y. Shao, J. Zheng, W.D. Bennett, D. Lu, and L.V. Saraf, et al. 2014. "Manipulating the Surface Reactions in Lithium Sulfur Batteries Using Hybrid Anode Structures." Nature Communications 5. PNNL-SA-96417. doi:10.1038/ncomms4015
2013
Shao Y., T.L. Liu, G. Li, M. Gu, Z. Nie, M.H. Engelhard, and J. Xiao, et al. 2013. "Coordination Chemistry in magnesium battery electrolytes: how ligands affect their performance." Scientific Reports 3. PNNL-SA-97112. doi:10.1038/srep03130
Zheng J., D. Lu, M. Gu, C.M. Wang, J. Zhang, J. Liu, and J. Xiao. 2013. "How to Obtain Reproducible Results for Lithium Sulfur Batteries." Journal of the Electrochemical Society 160, no. 11:A2288-A2292. PNNL-SA-97863. doi:10.1149/2.106311jes