Huilin Pan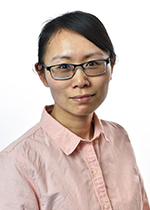 Pacific Northwest National Laboratory
PO Box 999
Richland, WA 99352
Send Email
Biography
Dr. Pan is currently a research scientist in the Electrochemical Materials and Systems Group in the Energy Processes and Materials Division at PNNL. She received her Ph.D. in condensed matter physics from Institute of Physics Chinese Academy of Sciences in 2013 and joined PNNL the same year. She has a strong background in battery material for energy storage systems. Dr. Pan has more than 20 peer-reviewed papers and 4 US patents applications.
Research Interests
She has wide interest and experience in the development of battery materials and electrolytes for different kinds of energy storage technologies and the underlying reaction mechanisms in battery systems. Since her joining PNNL in 2013, she has been focused on the development of high energy and low cost energy storage solutions, e.g., lithium-sulfur and aqueous zinc batteries.
Education and Credentials
2010.09-2013.07 PhD, Condensed Matter Physics, Institute of Physics Chinese Academy of Sciences, Beijing, China
2007.09-2010.07 MS, Condensed Matter Physics, Jilin University, Changchun, China
2003.09-2007.07 BS, Applied Physics, Zhengzhou University, Zhengzhou, China
Affiliations and Professional Service
Society member: ECS
Editor board member for American Journal of Engineering and applied Sciences
Frequent reviewer for following international academic journals: Advanced Energy Materials, Nano Energy, Scientific Reports, Journal of Power Sources, Solid State Ionics, Journal of Applied Physics, Crystal Growth & Design, The Journal of The Minerals, Metals & Materials Society, Journal of Alloys and Compounds, Ceramics International etc.
Awards and Recognitions
Outstanding Poster Award, Symposium on Beyond Lithium ion IX (2016)
Outstanding Performance Award in Pacific Northwest National Laboratory (2014, 2015)
TOP 1% author, highly cited in the Royal Society of Chemistry Journals (2014)
PNNL Patents
PNNL Publications
2018
Pan H., K. Han, M.H. Engelhard, R. Cao, J. Chen, J. Zhang, and K.T. Mueller, et al. 2018. "Addressing Passivation in Lithium-Sulfur Battery under Lean-Electrolyte Condition." Advanced Functional Materials 28, no. 38:Article Number 1707234. PNNL-SA-131237. doi:10.1002/adfm.201707234
2017
Chen J., W.A. Henderson, H. Pan, B.R. Perdue, R. Cao, J.Z. Hu, and C. Wan, et al. 2017. "Improving Lithium-sulfur Battery Performance under Lean Electrolyte through Nanoscale Confinement in Soft Swellable Gels." Nano Letters 17, no. 5:3061-3067. PNNL-SA-121812. doi:10.1021/acs.nanolett.7b00417
Han K., J. Chen, R. Cao, N. Rajput, V. Murugesan, L. Shi, and H. Pan, et al. 2017. "Effects of Anion Mobility on Electrochemical Behaviors of Lithium-Sulfur Batteries." Chemistry of Materials 29, no. 21:9023-9029. PNNL-SA-129332. doi:10.1021/acs.chemmater.7b02105
Pan H., B. Li, D. Mei, Z. Nie, Y. Shao, G. Li, and X.S. Li, et al. 2017. "Controlling Solid-Liquid Conversion Reactions for Highly Reversible Aqueous Zinc-Iodine Battery." ACS Energy Letters 2. PNNL-SA-128748. doi:10.1021/acsenergylett.7b00851
Pan H., J. Chen, R. Cao, V. Murugesan, N. Rajput, K. Han, and K.A. Persson, et al. 2017. "Non Encapsulation Approach for High Performance Li-S Batteries through Controlled Nucleation and Growth." Nature Energy 2. PNNL-SA-123317. doi:10.1038/s41560-017-0005-z
Pan H., K. Han, M. Vijayakumar, J. Xiao, R. Cao, J. Chen, and J. Zhang, et al. 2017. "Ammonium additives to dissolve lithium sulfide through hydrogen binding for high energy lithium-sulfur batteries." ACS Applied Materials & Interfaces 9, no. 5:4290-4295. PNNL-SA-116549. doi:10.1021/acsami.6b04158
2016
Chen J., K. Han, W.A. Henderson, K. Lau, M. Vijayakumar, T. Dzwiniel, and H. Pan, et al. 2016. "Restricting the Solubility of Polysulfides in Li-S Batteries Via Electrolyte Salt Selection." Advanced Energy Materials 6, no. 11:Article No. 1600160. PNNL-SA-113496. doi:10.1002/aenm.201600160
Pan H., Y. Shao, P. Yan, Y. Cheng, K. Han, Z. Nie, and C.M. Wang, et al. 2016. "Reversible aqueous zinc/manganese oxide energy storage from conversion reactions." Nature Energy 1, no. 5:Article No. 16039. PNNL-SA-111263. doi:10.1038/nenergy.2016.39
2015
Chen J., D. Wu, E.D. Walter, M.H. Engelhard, P. Bhattacharya, H. Pan, and Y. Shao, et al. 2015. "Molecular-Confinement of Polysulfide within Mesoscale Electrodes for the Practical Application of Lithium Sulfur Batteries." Nano Energy 13. PNNL-SA-106980. doi:10.1016/j.nanoen.2015.01.031
Lu D., P. Yan, Y. Shao, Q. Li, S.A. Ferrara, H. Pan, and G.L. Graff, et al. 2015. "High Performance Li-ion Sulfur Batteries Enabled by Intercalation Chemistry." Chemical Communications 51, no. 70:13454-13457. PNNL-SA-108571. doi:10.1039/C5CC05171A
Pan H., X. Wei, W.A. Henderson, Y. Shao, J. Chen, P. Bhattacharya, and J. Xiao, et al. 2015. "On the way toward understanding solution chemistry of lithium polysulfides for high energy Li-S redox flow batteries." Advanced Energy Materials 5, no. 16:Article No. 1500113. PNNL-SA-107502. doi:10.1002/aenm.201500113
Wang Q., J. Zheng, E.D. Walter, H. Pan, D. Lu, P. Zuo, and H. Chen, et al. 2015. "Direct Observation of Sulfur Radicals as Reaction Media in lithium Sulfur Batteries." Journal of the Electrochemical Society 162, no. 3:A474-A478. PNNL-SA-104559. doi:10.1149/2.0851503jes
Xiao J., J.Z. Hu, H. Chen, M. Vijayakumar, J. Zheng, H. Pan, and E.D. Walter, et al. 2015. "Following the Transient Reactions in Lithium-Sulfur Batteries Using In an In Situ Nuclear Magnetic Resonance Technique." Nano Letters 15, no. 5:3309-3316. PNNL-SA-101779. doi:10.1021/acs.nanolett.5b00521
Yu X., H. Pan, Y. Zhou, P. Northrup, J. Xiao, S. Bak, and M. Liu, et al. 2015. "Direct Observation of the Redistribution of Sulfur and Polysufides in Li-S Batteries During the First Cycle by In Situ X-Ray Fluorescence Microscopy." Advanced Energy Materials 5, no. 16. PNNL-SA-110121. doi:10.1002/aenm.201500072