Qiuyan Li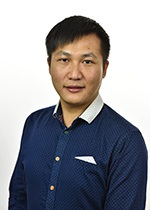 Pacific Northwest National Laboratory
PO Box 999
Richland, WA 99352
Send Email
Biography
Mr. Li is currently a Research Scientist in the Electrochemical Materials and Systems Group in the Energy Processes and Materials Division at PNNL. He has expertise and extensive experience in the development of lithium ion battery, especially for the design including dimension and materials, platform development and system integration of lithium ion battery, the fabrication and process optimization of pouch cell, the development of electrode (both cathode and anode) materials and electrolyte for Li-ion batteries, the development of primary Li-metal microbatteries and the study of Li-sulfur batteries. Before joining PNNL in 2014, Mr. Li was an engineer in Amperex Technology Limited (ATL) for three years. He has been performing the fabrication of microbatteries and working on Advance Batteries Facility (ABF) at PNNL, He is also involved in development of Li-S batteries to solve wetting issue and improve adhesion of sulfur electrode. He also has extensive experience in product and project management and has performed numerous electrochemical measurements and fabricated numerous pouch cells of new energy storage systems.
Research Interests
Mr. Li's research interests include the development of materials (electrolytes and electrodes) for lithium ion battery and lithium sulfur battery, the design, fabrication and process optimization for various energy storage systems in pouch cell.
Education and Credentials
M.S., Materials Science and Engineering, Tianjin Polytechnic University, Tianjin, China, 09/2009 to 03/2012.
B.S., Applied Chemistry, Tianjin Polytechnic University, Tianjin, China, 09/2005 to 07/2009.
PNNL Patents
PNNL Publications
2019
Chen S., C. Niu, H. Lee, Q. Li, L. Yu, W. Xu, and J. Zhang, et al. 2019. "Critical Parameters for Evaluating Coin Cells and Pouch Cells of Rechargeable Li-Metal Batteries." Joule 3, no. 4:1094-1105. PNNL-SA-131547. doi:10.1016/j.joule.2019.02.004
Liu J., Z. Bao, Y. Cui, E. Dufek, J. Goodenough, P. Khalifah, and Q. Li, et al. 2019. "Pathways for Practical High-Energy Long-Cycling Lithium Metal Batteries." Nature Energy 4, no. 3:180-186. PNNL-SA-129839. doi:10.1038/s41560-019-0338-x
Niu C., H. Lee, S. Chen, Q. Li, J. Du, W. Xu, and J. Zhang, et al. 2019. "High-energy lithium metal pouch cells with limited anode swelling and long stable cycles." Nature Energy 4, no. 7:551-559. PNNL-SA-139913. doi:10.1038/s41560-019-0390-6
Ren X., L. Zou, S. Jiao, D. Mei, M.H. Engelhard, Q. Li, and H. Lee, et al. 2019. "High-Concentration Ether Electrolytes for Stable High-Voltage Lithium Metal Batteries." ACS Energy Letters 4, no. 4:896-902. PNNL-SA-134330. doi:10.1021/acsenergylett.9b00381
Wu H., Y. Xu, X. Ren, B. Liu, M.H. Engelhard, M.S. Ding, and P.Z. El-Khoury, et al. 2019. "Polymer-in-"quasi-ionic liquid" electrolytes for high-voltage lithium metal batteries." Advanced Energy Materials 9, no. 41:1902108. PNNL-SA-144443. doi:10.1002/aenm.201902108
2018
Jiao S., J. Zheng, Q. Li, X. Li, M.H. Engelhard, R. Cao, and J. Zhang, et al. 2018. "Behavior of Lithium Metal Anodes under Various Capacity Utilization and High Current Density in Lithium Metal Batteries." Joule 2, no. 1:110-124. PNNL-SA-125205. doi:10.1016/j.joule.2017.10.007
Jiao S., X. Ren, R. Cao, M.H. Engelhard, Y. Liu, D. Hu, and D. Mei, et al. 2018. "Stable Cycling of High-Voltage Lithium Metal Batteries in Ether Electrolytes." Nature Energy 3, no. 9:739-746. PNNL-SA-131449. doi:10.1038/s41560-018-0199-8
Lee H., S. Chen, X. Ren, A.I. Martinez, V. Shutthanandan, V. Murugesan, and K. Han, et al. 2018. "Electrode Edge Effects and the Failure Mechanism of Lithium-Metal Batteries." ChemSusChem 11, no. 21:3821-3828. PNNL-SA-134550. doi:10.1002/cssc.201801445
Li X., J. Zheng, M.H. Engelhard, D. Mei, Q. Li, S. Jiao, and N. Liu, et al. 2018. "Effects of Imide-Orthoborate Dual-Salt Mixtures in Organic Carbonate Electrolytes on the Stability of Lithium Metal Batteries." ACS Applied Materials & Interfaces 10, no. 3:2469-2479. PNNL-SA-128903. doi:10.1021/acsami.7b15117
Li X., J. Zheng, X. Ren, M.H. Engelhard, W. Zhao, Q. Li, and J. Zhang, et al. 2018. "Dendrite-Free and Performance-Enhanced Lithium Metal Batteries through Optimizing Solvent Compositions and Adding Combinational Additives." Advanced Energy Materials 8, no. 15:Article Number 1703022. PNNL-SA-129776. doi:10.1002/aenm.201703022
Lu D., Q. Li, J. Liu, J. Zheng, Y. Wang, S.A. Ferrara, and J. Xiao, et al. 2018. "Enabling High-Energy-Density Cathode for Lithium-Sulfur Batteries." ACS Applied Materials & Interfaces 10, no. 27:23094-23102. PNNL-SA-123328. doi:10.1021/acsami.8b05166
Ren X., S. Chen, H. Lee, D. Mei, M.H. Engelhard, S.D. Burton, and W. Zhao, et al. 2018. "Localized High-Concentration Sulfone Electrolytes for High-Efficiency Lithium-Metal Batteries." Chem 4, no. 8:1877-1892. PNNL-SA-132007. doi:10.1016/j.chempr.2018.05.002
Ren X., Y. Zhang, M.H. Engelhard, Q. Li, J. Zhang, and W. Xu. 2018. "Guided Lithium Metal Deposition and Improved Lithium Coulombic Efficiency through Synergistic Effects of LiAsF6 and Cyclic Carbonate Additives." ACS Energy Letters 3, no. 1:14-19. PNNL-SA-128909. doi:10.1021/acsenergylett.7b00982
Wang Y., Q. Li, S. Cartmell, H. Li, S.A. Mendoza, J. Zhang, and Z. Deng, et al. 2018. "Fundamental understanding and rational design of high energy structural microbatteries." Nano Energy 43. PNNL-SA-129983. doi:10.1016/j.nanoen.2017.11.046
Yu L., N.L. Canfield, S. Chen, H. Lee, X. Ren, M.H. Engelhard, and Q. Li, et al. 2018. "Enhanced Stability of Lithium Metal Anode by using a 3D Porous Nickel Substrate." ChemElectroChem 5, no. 5:761-769. PNNL-SA-130543. doi:10.1002/celc.201701250
Yu L., S. Chen, H. Lee, L. Zhang, M.H. Engelhard, Q. Li, and S. Jiao, et al. 2018. "A Localized High-Concentration Electrolyte with Optimized Solvents and Lithium Difluoro(oxalate)borate Additive for Stable Lithium Metal Batteries." ACS Energy Letters 3, no. 9:2059-2067. PNNL-SA-134778. doi:10.1021/acsenergylett.8b00935
2017
Adams B., E.V. Carino, J.G. Connell, K. Han, R. Cao, J. Chen, and J. Zheng, et al. 2017. "Long term stability of Li-S batteries using high concentration lithium nitrate electrolytes." Nano Energy 40. PNNL-SA-124786. doi:10.1016/j.nanoen.2017.09.015
Ding M.S., Q. Li, X. Li, W. Xu, and K. Xu. 2017. "Effects of Solvent Composition on Liquid Range, Glass Transition, and Conductivity of Electrolytes of a (Li, Cs)PF6 Salt in EC-PC-EMC Solvents." Journal of Physical Chemistry C 121, no. 21:11178-11183. PNNL-SA-125348. doi:10.1021/acs.jpcc.7b03306
Li Q., D. Lu, J. Zheng, S. Jiao, L. Luo, C. Wang, and K. Xu, et al. 2017. "Li+-Desolvation Dictating Lithium-Ion Battery's Low-Temperature Performances." ACS Applied Materials & Interfaces 9, no. 49:42761-42768. PNNL-SA-129021. doi:10.1021/acsami.7b13887
Li Q., S. Jiao, L. Luo, M.S. Ding, J. Zheng, S.S. Cartmell, and C. Wang, et al. 2017. "Wide temperature electrolytes for lithium-ion batteries." ACS Applied Materials & Interfaces 9, no. 22:18826-18835. PNNL-SA-124731. doi:10.1021/acsami.7b04099
Lu D., J. Tao, P. Yan, W.A. Henderson, Q. Li, Y. Shao, and M.L. Helm, et al. 2017. "Formation of Reversible Solid Electrolyte Interface on Graphite Surface from Concentrated Electrolytes." Nano Letters 17, no. 3:1602-1609. PNNL-SA-113201. doi:10.1021/acs.nanolett.6b04766
Wang Y., S.S. Cartmell, Q. Li, J. Xiao, H. Li, Z. Deng, and J. Zhang. 2017. "A reliable sealing method for microbatteries." Journal of Power Sources 341. PNNL-SA-119837. doi:10.1016/j.jpowsour.2016.12.024
2015
Lu D., J. Zheng, Q. Li, X. Xie, S.A. Ferrara, Z. Nie, and B.L. Mehdi, et al. 2015. "High Energy Density Lithium-Sulfur Batteries: Challenges of Thick Sulfur Cathodes." Advanced Energy Materials 5, no. 16:Article No. 1402290. PNNL-SA-107462. doi:10.1002/aenm.201402290
Lu D., P. Yan, Y. Shao, Q. Li, S.A. Ferrara, H. Pan, and G.L. Graff, et al. 2015. "High Performance Li-ion Sulfur Batteries Enabled by Intercalation Chemistry." Chemical Communications 51, no. 70:13454-13457. PNNL-SA-108571. doi:10.1039/C5CC05171A
Wang Y., B. Liu, Q. Li, S.S. Cartmell, S.A. Ferrara, Z. Deng, and J. Xiao. 2015. "Lithium and lithium ion batteries for applications in microelectronic devices: A review." Journal of Power Sources 286. PNNL-SA-107957. doi:10.1016/j.jpowsour.2015.03.164
Yan P., J. Zheng, S. Kuppan, Q. Li, D. Lv, J. Xiao, and G. Chen, et al. 2015. "Phosphorus Enrichment as a New Composition in the Solid Electrolyte Interphase of High-Voltage Cathodes and Its Effects on Battery Cycling." Chemistry of Materials 27, no. 21:7447-7451. PNNL-SA-113152. doi:10.1021/acs.chemmater.5b03510