Rajankumar Patel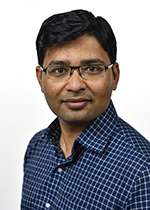 Pacific Northwest National Laboratory
PO Box 999
Richland, WA 99352
Send Email
Biography
Dr. Rajankumar Patel joined PNNL in 2016 as a postdoctoral research associate. His work has been focused on the coherent and directed design of nanostructured materials for efficient reactions, energy storage devices, and separations technologies. Dr. Patel has authored and co-authored several journal papers and conference proceedings. He also has several US patent applications pending.
Research Interests
Nanostructured films and devices
Surface functionalization
Energy storage
Education and Credentials
PhD, Chemical Engineering, Missouri University of Science and Technology, 2016
MS, Chemical Engineering, San Jose State University, San Jose, CA, 2010
BS, Chemical Engineering, Sardar Patel University, Gujarat, India, 2007
Affiliations and Professional Service
Society member: ECS, AAAS, AIChE
Frequent reviewer for following international academic journals: Crystal Growth & Design, Advanced Powder Technology, Journal of Materials Research, Ceramics International, etc.
Awards and Recognitions
Distinguished Dissertation Award, Missouri University of Science and Technology (2016)
Outstanding Poster Award, Electrochemical Society 227th Meeting (2016)
Travel Grant Award, Missouri University of Science and Technology (2016)
Invited Talks: Environmental Research Center at Missouri S&T (2016); Department of Chemical and Biochemical Engineering at Missouri S&T (2016)
PNNL Publications
2018
Estevez L., D. Barpaga, J. Zheng, S.R. Sabale, R.L. Patel, J. Zhang, and B.P. McGrail, et al. 2018. "Hierarchically Porous Carbon Materials for CO2 Capture: The Role of Pore Structure." Industrial Engineering Chemistry Research 57, no. 4:1262-1268. PNNL-SA-129228. doi:10.1021/acs.iecr.7b03879
Jia H., J. Zheng, J. Song, L. Luo, R. Yi, L. Estevez, and W. Zhao, et al. 2018. "A novel Approach to Synthesize Micrometer-Sized Porous Silicon as a High Performance Anode for Lithium-Ion Batteries." Nano Energy 50. PNNL-SA-131369. doi:10.1016/j.nanoen.2018.05.048
Mishra K., J. Zheng, R.L. Patel, L. Estevez, H. Jia, L. Luo, and P.Z. El-Khoury, et al. 2018. "High Performance Porous Si@C Anodes Synthesized by Low Temperature Aluminothermic Reaction." Electrochimica Acta 269. PNNL-SA-130364. doi:10.1016/j.electacta.2018.02.166