Hui Wang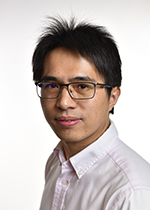 Pacific Northwest National Laboratory
PO Box 999
Richland, WA 99352
Send Email
Biography
Dr. Hui Wang joined PNNL in November, 2016 after obtaining his Ph.D. degree under the supervision of Professor Imanishi in March 2014 and thereafter being ALCA-SPRING postdoctoral researcher for two and a half years at Mie University, where he developed diverse approaches for protected lithium metal electrodes, including the application of impermeable lithium ion conducting glass ceramics with polymeric buffer layers and the invention of diluted solvate ionic liquids. He has more than six years' knowledge and experience in the development of materials for Li-metal-based batteries, synthesis of polymer electrolytes and design of various testing cells and ex-situ transfer vessels for lithium metal surface characterization.
Research Interests
Electrolytes for lithium metal electrodes
In-operando sophisticated instrument, analytical methods and computing tools on the interface electrochemistry
Li-metal-based batteries
Electrodeposition
Education and Credentials
Ph.D., in Materials Science, Mie Univeristy, Japan, March 2014
Affiliations and Professional Service
Member of The Electrochemical Society
Awards and Recognitions
The Presidential Award for Outstanding Graduates at Mie University, 2014.
The Honda Benjiro Shogaku Kikin Scholarship of Fostering Engineers from Talented Foreign Students, 2011-2014.