Biwei Xiao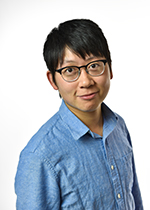 Pacific Northwest National Laboratory
PO Box 999
Richland, WA 99352
Send Email
Biography
Biwei Xiao joined PNNL in February, 2017, he earned his Ph.D. degree from the University of Western Ontario in Canada. His research interests are associated with the synthesis, modification and mechanism study of cathode materials and carbonaceous materials for lithium-ion and sodium-ion batteries, atomic layer deposition and synchrotron radiation technique. Dr. Xiao has published more than 20 papers in peer reviewed journals and a book chapter.
Research Interests
Energy storage materials for lithium and sodium-ion batteries.
Thin film deposition techniques.
Advanced characterization techniques.
Education and Credentials
Ph.D., Mechanical and Materials Engineering, The University of Western Ontario, Canada, 2017.
B. Eng., Materials Science and Engineering, Sichuan University, China, 2011.
PNNL Publications
2019
Song J., D. Xiao, H. Jia, G. Zhu, M.H. Engelhard, B. Xiao, and S. Feng, et al. 2019. "A Comparative Study of Pomegranate Sb@C Yolk-Shell Microspheres as Li and Na-Ion Battery Anodes." Nanoscale 11, no. 1:348-355. PNNL-SA-139714. doi:10.1039/c8nr08461k
Xiao B., K. Wang, G. Xu, J. Song, Z. Chen, K. Amine, and D.M. Reed, et al. 2019. "Revealing the Atomic Origin of Heterogeneous Li-Ion Diffusion by Probing Na." Advanced Materials 31, no. 29:Article number 1805889. PNNL-SA-137695. doi:10.1002/adma.201805889
Xiao B., T. Rojo, and X. Li. 2019. "Hard Carbon as Sodium-Ion Battery Anodes: Progress and Challenges." ChemSusChem 12, no. 1:133-144. PNNL-SA-137454. doi:10.1002/cssc.201801879
2018
Saurel D., B. Orayech, B. Xiao, D. Carriazo, X. Li, and T. Rojo. 2018. "From charge storage mechanism to performance: A roadmap toward high specific energy sodium-ion batteries through carbon-anode optimization." Advanced Energy Materials 8, no. 17:Article Number 1703268. PNNL-SA-130836. doi:10.1002/aenm.201703268
Song J., B. Xiao, Y. Lin, K. Xu, and X. Li. 2018. "Interphases in Sodium-Ion Batteries." Advanced Energy Materials 8, no. 17:Article Number 1703082. PNNL-SA-130469. doi:10.1002/aenm.201703082
2017
Fu S., C. Zhu, J. Song, M.H. Engelhard, B. Xiao, D. Du, and Y. Lin. 2017. "Nitrogen and Fluorine-Codoped Carbon Nanowire Aerogels as Metal-Free Electrocatalysts for Oxygen Reduction Reaction." Chemistry - A European Journal 23, no. 43:10460-10464. PNNL-SA-128735. doi:10.1002/chem.201701969