Yujing Bi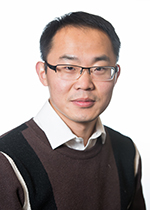 Pacific Northwest National Laboratory
PO Box 999
Richland, WA 99352
Send Email
Biography
Dr. Yujing Bi joined in Dec. 2018 as a Post Doctorate Research Associate in Transportation Energy Storage group at Pacific Northwest National Laboratory. He earned Ph. D degree from University of Chinese Academy of Sciences in 2016 after completing his Ph. D research in Ningbo Institute of Materials Technology & Engineering and University of Western Ontario. Before joining PNNL, he worked as postdoctoral researcher at Utah State University. Dr. Bi has published 20 peer viewed papers and applied 15 patents (7 granted including 1 U.S. patent).
Research Interests
Structure-performance relationship for Li-ion battery cathode materials.
Electrode/electrolyte interface of Li-ion battery.
Electrochemistry and chemistry for metal-sulfur batteries (Li-S, Mg-S).
Alkali ion batteries and multivalent ion batteries (Mg, Ca, Zn, Al).
Organic energy storage materials.
Education and Credentials
2013-2016, Ph. D., Material Physics and Chemistry, Ningbo Institute of Materials Technology and Engineering, Chinese Academy of Sciences, China
Affiliations and Professional Service
2017-2018, Postdoctoral Researcher, Utah State University, U.S.
Awards and Recognitions
International Training Program Scholarship, University of Chinese Academy of Sciences, 2015-2016
National Graduate Mathematical Modeling Contest, Second Award, China, 2010