Phung ML Le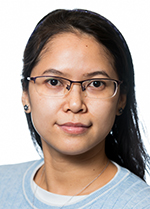 Pacific Northwest National Laboratory
PO Box 999
Richland, WA 99352
Send Email
Biography
Dr. Phung LE is currently a scientist in the group of Electrochemical Materials and Systems. She started joining Pacific Northwest National Laboratory (PNNL) in January 2019. She also holds a joint position of Associate Professor in the Department of Chemistry, University of Science — VNU HCM (Viet Nam). Dr. Phung Le got Ph.D degree in Electrochemistry from Grenoble Institute of Technology, France and also conducted her postdoctoral research on the application of Raman spectroscopy to diagnostic the degradation phenomena in Solid Oxide Fuel Cell.
Her research interest has been focused on designing the new material for energy conversion and storage systems. She has extensive experiences with electrochemitry and physical chemistry aspects of liquid electrolyte solutions (ionic liquid, etc.). She has been leading different research projects related to development of innovative materials for lithium/sodium batteries, supercapacitors and fuel cell in Applied Physical Chemistry Key Laboratory — VNU HCM. She has authored/co-authored more than 30 papers including Electrochimica Acta, Journal of Physical Chemistry, Journal of Electrochemical Society.
Research Interests
Synthesis of functional materials (electrode materials and electrolytes) for energy storage and conversion systems
Understand the synthesis-structure performance relationship in energy-related materials
Safe electrolytes Li-ion/Na-ion batteries.
Education and Credentials
2011-2012 Postdoc, ANR project "Pile aux Biogaz", Grenoble Institute of Technology, France
2006-2010 PhD, Electrochemistry, Grenoble Institute of Technology, France
2005-2006 MS, Material Science, University of Toulon – Var, France
2001-2005 BS, Chemistry, University of Science, Viet Nam National University of Ho Chi Minh city (VNU HCM)
Affiliations and Professional Service
2018 Promotion to Associate Professor, Department of Physical Chemistry, University of Science, VNU HCM
2013-now Head of Applied Physical Chemistry Key Laboratory, VNU HCM
2010-2013 Assistant Professor, Department of Physical Chemistry, University of Science, Viet Nam National University of Ho Chi Minh city (VNU HCM)
2011-2012 Postdoc, ANR project "Pile aux Biogaz", Grenoble Institute of Technology, France
2006-2010 PhD, Electrochemistry, Grenoble Institute of Technology, France
Awards and Recognitions
2018 Excellent Research Achievement Award, VNU HCM
2013, 2014 Excellent Research Achievement Award, VNU HCM