Wonjin Kwak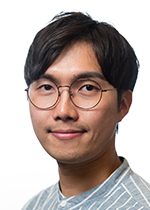 Pacific Northwest National Laboratory
PO Box 999
Richland, WA 99352
Send Email
Biography
Dr. Won-Jin Kwak is currently a Postdoctorate Research Associate in the Energy and Environment Directorate, PNNL. He has expertise and extensive experience in next-generation lithium batteries, especially lithium-oxygen batteries. His research focuses are the development of functional materials and the design of novel cell configuration, for stable and efficient lithium-oxygen and lithium metal batteries. Dr. Kwak has more than 30 papers published in peer-reviewed professional journals and holds 5 patents.
Research Interests
Cell component/configuration design for metal oxygen batteries
Interfacial chemistry/engineering for metal batteries
Advanced characterization techniques
Interpretation of mechanism for new electrochemical systems.
Education and Credentials
Ph.D., Energy Engineering, Hanyang University, Republic of Korea, 2018
B.A., Chemical Engineering, Hanyang University, Republic of Korea, 2012