Bhuvana Modachur Sivakumar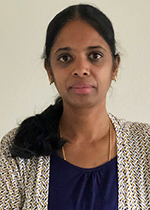 Pacific Northwest National Laboratory
PO Box 999
Richland, WA 99352
Send Email
Biography
Bhuvana Sivakumar received her MS and PhD degrees in Physics from Bharathiar University, India. After completing her PhD in 2006, she was awarded postdoctoral fellowship by Technical University of Darmstadt, Germany, where her work focused on chemical synthesis of phosphate/oxide based nano-crystalline materials for energy storage applications. Her work also focused on analyzing electrode/electrolyte interfacial processes in Li-ion and Li-metal batteries using in situ XPS and SRXPS (Synchrotron radiation XPS) at BESSY (Berlin Electron Storage Ring Society for Synchrotron Radiation). She joined PNNL as a postdoctoral researcher in 2010 and worked till 2011 focusing on XPS analysis of Li-ion and redox flow battery materials. After taking a career break, now Bhuvana joined as a Scientist at PNNL, and currently her work is focused on structural and chemical characterization of energy storage materials.
Research Interests
Electronic and structural evolution of metal oxides under electrochemical conditions
Electronic to meso-scale structural correlation of heterogeneous interfacial structure
Predictive understanding of two-dimensional structural materials functional properties
Lithium-ion battery, redox flow batteries, catalysis and ultra-capacitors
Education and Credentials
Ph.D., in Physics, Bharathiar University, India
M.Sc., in Physics, Bharathiar University, India
B.Sc., in Physics, Bharathiar University, India
Awards and Recognitions
Selected as distinguished research scholar to attend young physicists workshop organized by International Center for Theoretical Physics (ICTP) at Trieste, Italy.
Best Poster presentation award - International Conference on Electrochemical Power Systems, Hyderabad.
Travel grant award from Institute of Physics (IOP), London to attend 9th Asian conference on solid state ionics held at South Korea.
University Research Fellow Scholarship awarded by Bharathiar University 2004.
PNNL Publications
2011
Vijayakumar M., B.M. Sivakumar, P. Nachimuthu, B. Schwenzer, S. Kim, Z. Yang, and J. Liu, et al. 2011. "Spectroscopic Investigations of the Fouling Process on Nafion Membranes in Vanadium Redox Flow Batteries." Journal of Membrane Science 366, no. 1-2:325-334. PNNL-SA-73754. doi:10.1016/j.memsci.2010.10.018